Georgie B – Saturday Special April 9th 2022
Special Guest Show
Georgie B - Saturday Special April 9th 2022
Join Georgie B for a special 3 hour show on Saturday April 9th. Georgie will be hosting the first 2 hours of the show and selecting all the music plus interacting with the LMR listeners on the text, email and app shouts.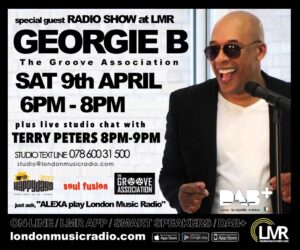 During hour 3 Georgie will be chatting to Terry Peters and discussing past present and future projects plus a first play of his new single during the show.
Georgie B (AKA George Bromfield), has been singing, writing, producing and DJ'ing within the music industry for the past 40 years, starting with the hit 80's jazz funk band Second Image and now with the award winning Groove Association.
After leaving Second Image in the late 80's, Georgie B continued to work tirelessly within the music industry,  sharing the stage with many distinguished artists such as Womack & Womack, Bobby Womack, Jean Carn, MAZE (ft. Frankie Beverly), Reel 2 Reel, Phil Fearon, Rod Temperton (writer of 'Thriller' & 'Rock With You'), Paul Weller  and many more. Plus a plethora of live and studio session performances around the globe.
---
Read more
---