---
Kevin Jaxx shows
---
Kevin Jaxx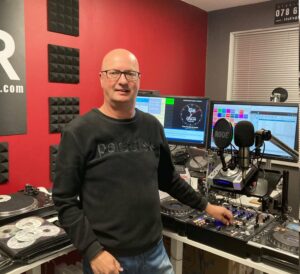 Kevin Jaxx plays 70's & 80's Soul, Funk, Disco, Jazz and Rare Groove. He now also dips into the more relaxed Beach & Puro House playing the best in laid back and classic tunes.
His love of the beat came from a very young age, when he learnt to play the military drums, and was even selected to be part of the Grenadier Guard's Military Band.
His love for disco music began as a youngster growing up from 1972 when he played music at youth clubs and schools from the age of 14, which played a big part in his progression to be involved with the start of the wonderful Disco era in North West London UK. These were the days of 'InterSpin', The Clay Pigeon, and The Master Brewer Hotel.
Kevin started DJ-ing in clubs way back in 1979 working alongside the likes of Froggy, Graham Gold, Robbie Vincent and Greg Edwards collecting various preferred styles of music from Jazz, Funk, Soul, Rare Groove and Disco as his main influences and started building his name on the club circuit, starting at ' 'Whispers' at The Kings Head in Harrow, and Harrow Leisure Centre, all just at the right time.
In the early 80s Kevin was co-owner of the massive sound system 'JB's Roadshow' where he would be mixing his vinyl's in warm ups for DJ's such as Sean French, Chris Ryan and Fergie at Americas and Tudors, Froggy at Epping Forest Country Club and Tim Westwood and Steve Jackson at the Apollo Theatre Brixton.
Moving on to the mid 80's 'JB's Roadshow' provided the sound system for many of the soul all-dayer's at venues like the Lyceum Ballroom, Hammersmith Palais, Notting Hill Carnival, Margate Winter Gardens and the Brighton Beach party. Often alongside Froggy's Roadshow we would also provide the main PA system, and manage sound and lights for bands such as Change, Culture Club, Phyllis Nelson, Mtume, Village People, David Joseph, Loose Ends, Imagination, UK Players and Edwin Starr at Charlie Chan's nightclub in Walthamstow to name a few.
In the late 80s Kevin also began installing sound & lighting into bars and clubs when he fitted out Bogarts, Middlesex & Herts Country Club and Broadway Boulevard where he also Dj'd on a Sunday night. He also played his tunes for 'The Fun Factory Promotions' at Chelsea Football Club at that time. He became a bar owner from 1987 to 1990 where his venue focused mainly on the music.
Over the last few years Kevin has been back DJ-ing classic tunes, digitally and still on vinyl, in small venues like Champers Bar in Eastcote Middx where he has worked alongside Dave Stewart, Jeff Young, Jimmy Davies, Harv Nagi, Jay Chops, CJ Carlos, Tony B and Brett Steven.
---