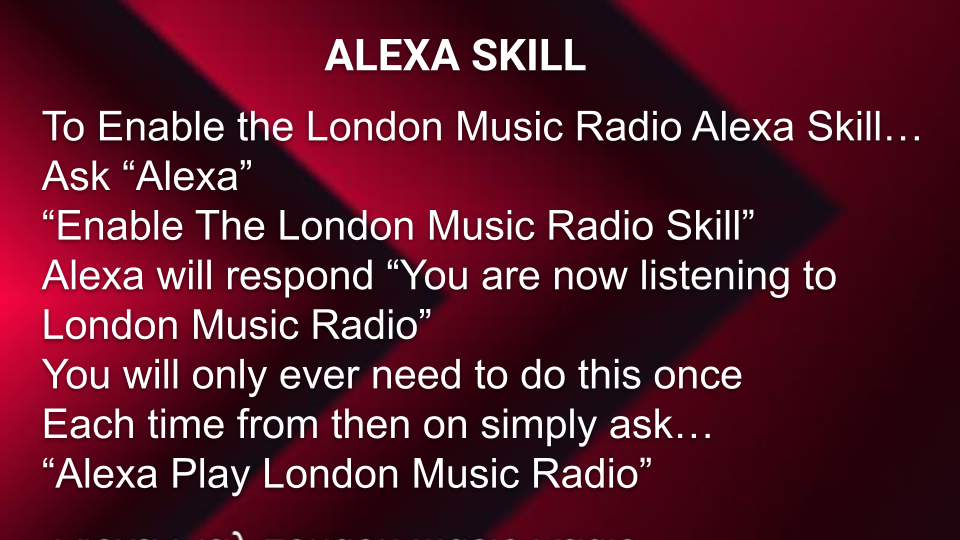 SONOS and BOSE speaker systems
If you have a device that you have manually added our current stream URL to you will need to use one of the following……
URL's
Our own 320k Stream URL:
https://stream.londonmusicradio.com:8005/listen
Or for devices unable to play secure streams
http://stream.londonmusicradio.com:7005/
SONOS
If you have a direct URL to the audio stream – not a web page – you can use the computer-based Sonos controller software to add that custom URL to Sonos. In the controller software, go to the Manage menu > Add Radio Station. There you will receive a box asking for the stream name (whatever you want to call it) and the URL https://stream.londonmusicradio.com:8005/listen to the stream.
After you have added it using those steps, it will appear in all Sonos controllers under Radio > My Radio Stations.
BOSE 
Streaming a station using a Custom URL Radio Stream
Custom URL streaming lets you enter the web address of an Internet radio stream that you want to play. This is useful if you cannot find an Internet radio station by searching the music services available in the SoundTouch app. A custom station can only be entered if the station offers a web address to access the station stream via a web browser. Some music services do not provide web addresses to streams of stations they own and instead offer those stations only through a music service website or app.)
To enter a custom URL for an internet radio stream:
In the SoundTouch app, tap the Menu icon in the upper-left
Tap Settings > Stream Custom Radio URL
In the URL field, enter the following web address of the station stream https://stream.londonmusicradio.com:8005/listen
In the Name field, enter a name for the station (i.e. the station call letters or FM/AM frequency)Tap STREAM STATION.Tip: If the stream does not start, check that the web address was entered correctly and that the stream is broadcast in a supported file type (MP3, MP3-AAC, ALAC, AAC, HEAAC, ASF, WMA, HLS, OGG, Vorbis, FLAC or SBC).
iTunes
Apple have announced the discontinuation of iTunes internet radio so unfortunately we were unable to request an update of stream URL. This unfortunately means that listeners will no longer be able to find London Music Radio and listen via the "Internet Radio" link. However, it is very easy to add our new stream URL to iTunes by doing the following:
In iTunes go to file | open stream and then paste one of our new stream URL's as listed below into the "Open Stream" window. It's then possible to save the stream into a playlist of your choice.
---
---